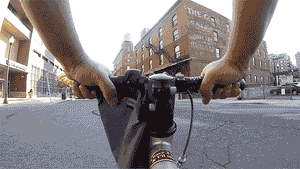 Free Shipping & Easy Amazon Checkout
We understand shopping at small shops can be a challenge (speed wise) when checking out. To help that, we are fully integrated with Amazon Pay (also GPay, PayPal, Facebook Pay, and ShopPay) checkout so you can sign in with your normal creds and access your addresses, credit cards, etc for easy checkout while still being able to support a small USA home grown brand.
Now Offering DISCOUNTS when you buy multiple Slap Bags.
 2 + Get 10% Off Entire Order
 3 + Get 15% Off Entire Order
 4 + Get 20% Off Entire Order
 5 + Get 25% Off Entire Order
*** Did I mention we also are offering FREE SHIPPING (*US Only) ***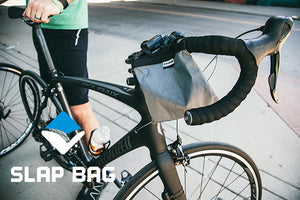 Simple Little Accessory Pouch
SLAP BAG is a Simple Little Accessory Pouch that mounts to the handlebars and stem of your road bike, mountain bike, cruiser bike, fixie bike or kids bike.  Did we mention the best part: It opens and closes with one hand.
Made in the USA
Designed and Invented in Boulder, Colorado
Sewn in Spokane, Washington
Bike + Stuff =
Securely hold all of your essentials with Slap Bag®'s patent-pending technology. The perfect alternative to saddle bags, the Slap Bag® keeps all of the important stuff right at your finger tips. Just, grab, slap and go!

Slap Bag® opens with ease. Using the simple grab and go system, simply pull on the tab to the open the bag and slap the bag closed. Grab, Slap and Go!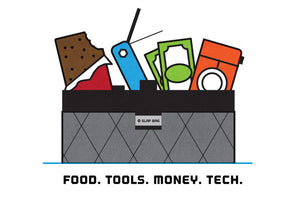 Product Specs
Dimensions
External Dimensions: 7.50" W x 6.75" H (3.50" mouth when open)
Internal Dimensions: 7.25" W x 5.75" H (3.25" mouth when open)
Fabric
X-Pac VX-21Durable, Rigid (doesn't flap in the wind), Waterproof Fabric
The fabric is waterproof but the bag closure does not create a water tight seal, consider this product water resistant.
Patent Pending Closure
The back edge has an rigid bar that you can bend into place for a custom fit to every bike. The front edge is much like a slap bracelet and the ~90 degree angle you create once you bend the bag into place activates the Patent Pending closure mechanism
Frequently Asked Questions [FAQs]
Installation Instructions

It's simple just bend by pushing above where the Slap Bag logo is, you'll be bending the aluminum bar on the back edge into its active state (forming close to a 90degree angle). Then attach two of the Velcro straps to your handle bars and the other two to your stem (it's not required to have all 4, we have that many to give you options). Of course, if you have any troubles or questions you can give us a call or email info@slapbag.com
My bag is flat, how do I make it work?

For shipping purposes, the bags always come flat. The first step in activating your Slap Bag is to bend the entire bag to a right angle. Then, find a spot on your bike (or stroller, or crutches, or walker or kayak) to affix the bag in the same right angle.
Will this work on my bike?

We have tested the Slap Bag on all sorts of bikes from mountain to road to fat bikes and kids striders. We've also seen the Slap Bag installed not optimally on many bikes. The key is to find a spot where you can attach the bag so the two sides make a 90-degree angle. We're happy to help if you can't figure out how to do this but to really enjoy the full accessibility of the bag, this is the essential part.
Can I use this on strollers, walkers, crutches, wheelchairs, kayaks, canoes...

We love to see people using the Slap Bag on any device where it's important to access with just one hand. The important part of the design is to ensure there is a secure attachment to device and that the bag is folded at a right angle to allow for a true "open" and "close" position.